By 2050 Africa will have more children on the continent then all the people in China. The question is, should culturally poisoned invaders who occupy African land and remain untreated for their dis-ease expect business as usual? Or is it the case that karma or some other cosmic force will kick in to restore Maat? (Video)
Trayvon Martin George Zimmerman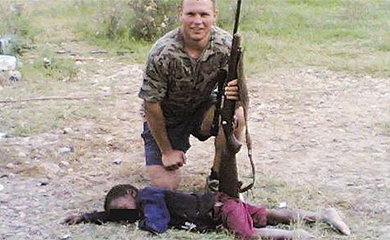 A picture the dead man posted on FB
Farmworker convicted of killing South African white supremacist and
notorious Cultural Terrorist Eugene Terre'Blanche.
Let's Go to the video tape
Not every thing is what it seems like on TV, South Africa still has much cultural health work to do and so do we, As long as Cultural Terrorist walk free on the streets among our son's and daughters then no one is safe.
Here in America especially, in the south Republican extremest are running wild as we come to the 2012 election. Nation wide Republican voter suppression second only to treason against AA's, LA's the elderly is in many states. The department of justice had to step in and stop unconstitutional voter suppression in Florida. IMHO, it will not be the last state the DOJ must move on between now and November.
June 5th is primary day in my state and many states in the country, be sure and vote. I and my family plan to vote straight democratic. They have an unfinished miracle in South Africa and we have one here. We all know what is at stake. Who is trying to kill jobs, unions, woman's rights and education. Remember one can not use one's foot to push another down in the grave, without having one foot in that same grave.
This is a time to pay close attention, world citizens we can do better, we must do better.
Live and learn or crash and burn!